Inspired by his daughter, National Geographic photographer Kike Calvo set out to create a children's book that would encourage young readers to see the world in new ways and create positive change. His book-making project led him down an incredible path of creative collaboration, culminating in The Adventures of Pili in New York. He took us behind the scenes of this multi-lingual book project, from creative vision to international launch and beyond.
1. What was the inspiration behind your book?
The initial inspiration came from my daughter Pilar (Pili), now almost five years old. As I immersed myself in the world of being a father, the notion of inspiring children to aspire, and create educational materials with the essence of key ideas, became almost an obsession. I started to think about the challenges she will be confronting in life, especially as a girl. And that's how The Adventures of Pili was initially triggered. My wish is to create an impact on children and their upbringing, becoming a catalyst for conversations on important topics at home and school.
2. Who helped you with this project? Can you tell us a bit about how you collaborated with other artists, writers, translators, etc.?
It is fair to say that this project has only been made possible by people who, one way or another, believed in the idea. Initially, I shared the concept with a friend, Walter Carzon; an Argentinian artist who jumped into the idea right away. We partnered in creating a project that would inspire kids to aspire. But there has also been the unconditional help from translators, writers, editors, artists, designers, and friends who have supported in all kinds of ways. And for that, I will always be grateful. There are also those who I don't have the pleasure of knowing personally but have decided to buy our books on Amazon and through other stores to give them to their loved ones.
Our partners and supporters include Gaia Amazonas, Etnollano, Tropenbos Colombia, CafiOccidente, Cortolima, Vía40Express, and Lindblad Expeditions. The Colombian Government office Pro-Colombia gave The Adventures of Pili the Marca País label to our books as country ambassadors, allowing us to include their exclusive branding logo on all our materials.
3. Your book tackles some big ideas including environmental conservation and sustainability, cultural diversity and empowerment, entrepreneurship, and climate change. How did you distill the core elements of these concepts into a message and format that children could access and understand?
Our mission at The Adventures of Pili is to create books and other educational products that increase children's awareness of global environmental issues and foster multi-lingual literacy. We believe conservation is not only about knowledge and awareness but about art, inspiration . . . and heart! So in order to inspire, we need to connect with our audiences. First, with the parents and teachers who buy books. But in the end, with the kids who read our books no matter where they live. So we aim for universal acceptance of our educational adventures crossing borders.
4. How has your work as a professional photographer for National Geographic impacted or informed this project?
My work is currently represented by National Geographic Image Collection, and for almost eight years now, I have been going on National Geographic and Lindblad Expeditions around the world in my role as Nat Geo photographer. These constant interactions, with both highly educated travelers, combined with the experience of traveling the world in a very different manner, has transformed not only this project, but myself, both as a professional and as a human.
5. Why did you choose to self-publish?
Flexibility. The ability to be anywhere and have books delivered to our clients remotely is priceless for me. It may not be the best option regarding cost, but certainly, the flexibility overcomes that problem. It all depends on what your goal is. As we do have a strong social mission connected with the project, our modus operandi may differ from other projects. For the books we give away for free to kids in remote communities around the world, we sometimes print overseas. Last year, our publications reached communities along the tributaries of the Amazon, in the Gobi Desert, and the highlands of Rwanda, to mention just a few locations.
6. How did you choose the languages to publish in, other than English? Why was it important to publish the book in multiple languages?
My mother tongue is Spanish. Thanks to my parents having the vision to provide me with bilingual education, I have been able to build my career upon it. So when it came to creating educational materials for kids, multilingual projects were the only choice. All our books have been created bilingual. We currently have English-Spanish, English-Mandarin, but as we speak, English-Japanese, English-Russian, English-French, English-German, and English-Arabic are being developed.
7. Tell us about the process of designing The Adventures of Pili in New York. How did you decide on the format, layout, color scheme, and typography? Which tools did you use?
It was an evolution that came from feedback from all the parts involved. As there is no bureaucracy involved in what we do, that mainly consisted of WhatsApp messages at weird times of the day or night, always mixed with humor, and the desire to make things well. To achieve what we came up with, we took multiple rounds of reviews between us. Each one of us has a different background. We are not even located in the same country. Some of us have not even met in person. Different ways of seeing things, but each with a special unique talent, that when combined, creates the magic. I believe it is the magic of synergy.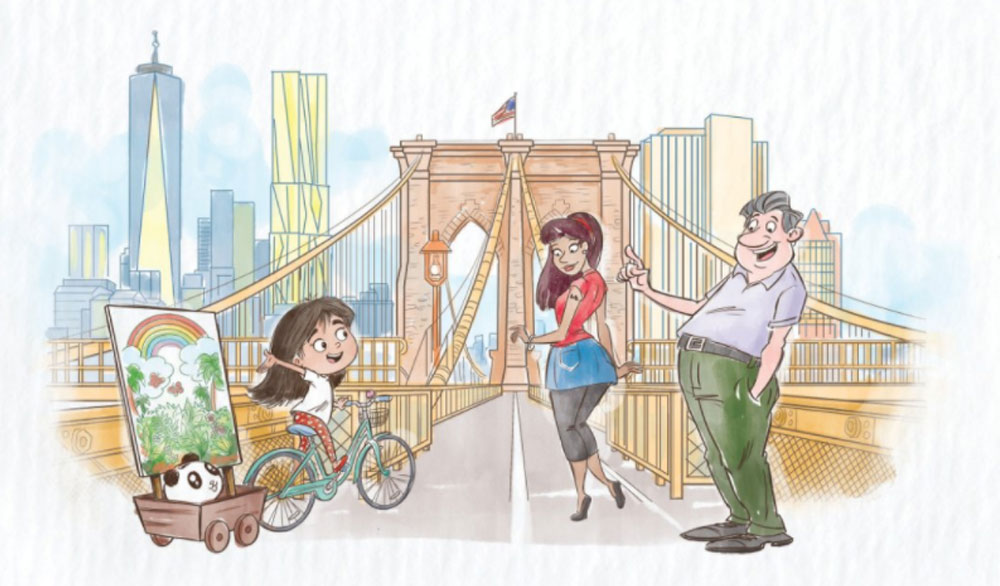 8. Did you encounter any unexpected challenges when creating your book? If so, how did you overcome them?
This project began as a dream. It turned into a vision. Became a partnership. And transformed itself into a project of love for many. The road has been filled with challenges on each step of the way, e.g. How do you distribute 5,000 books in remote communities around the world? Where do you find the resources to print those books? How do you make sure there is an inventory of deliveries, and beyond the act of getting a book, kids get inspiration through additional workshops? It would take a long time to describe how we overcame these challenges. But in a simple way, I would say, I never stop dreaming. Seeing the faces of those happy kids with their new unexpected books, or how Univision New York TV showcased the project's achievements, made any challenges we faced worth tackling.
9. What do you think makes the best kind of children's book? What can writers and illustrators do to make excellent children's books?
This is a complex question to answer but, I do have some insight. Only when this project transformed itself into one of love and friendship, that's when the magic started happening at all levels, including our author and illustrator relationship. We speak daily about what we can do as a team to make things happen, and we all dream about how to make an impact.
10. What role does print play in the digital world? What do you think the future is for books for creatives, child readers, etc.?
As we all know, the digital world has changed how we consume information and how we educate ourselves. In our case, as our social project is reaching low-income areas, in places hard to reach, digital is not really an option. Also when it comes to parents who buy our books, many times they prefer to give a traditional book, so their children can focus on reading, away from screen-time, which is what we all seem to end up doing most of the time nowadays.
11. Can you tell us a bit about your professional background? How did you get started in photography?
My case may be a little unusual. I started by experimenting with different career paths. I was studying economics to become a Wall Street broker, or so I dreamt, but my father died when I was 20. My world collapsed. I lost all interest in material things and I focused on pursuing my dreams. I started wandering the planet in search of a purpose and a mission. And I did find it. But as I promised my dad, I graduated with a degree in economics before heading to the United States.
I never truly had a mentor while pursuing my photographic dreams, but I must admit, that as time has passed, especially lately, life has brought some amazing human beings that have nurtured my creativity and redirected my efforts into positive outcomes.
12. What's next for Pili?
As I type these answers, I have been awarded a Safina Center Fellowship. As this is an invitation-only fellowship, I requested to work on further inspiring the international community to support long-term educational strategies for this project, helping our efforts to address the need for knowledge and inspiration in remote places. I expect the communities that participate in this project to gain an increased sense of ownership of their natural resources.
We will continue our visits to schools and small rural communities, presenting our materials to students, complemented with presentations and workshops with the invaluable support of our partners and NGOs.
We also hope to develop and distribute a new book in the series: The Adventures of Pili in Colombia. New activity and coloring books are also being planned.
But above all, we hope to increase the number of free bilingual books given to children. If after reading this interview, you feel you would like to help, we are open to ideas. Anytime you share our story and project with the world, you are helping us.
You can find the original interview Ideas&Examples by Blurb here.